Meet Our Team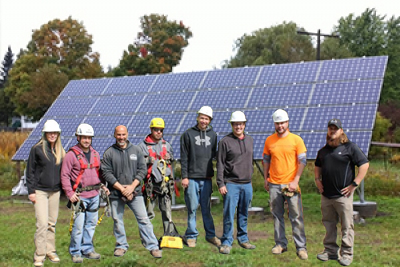 OWEN R. PUGH
OWNER & FOUNDER
Owen attended and graduated from APW High School in Parish, NY. With 10 years of energy management experience for fortune 500 companies such as Walmart and Sam's Club. Owen went on to become a Journeyman Electrician for 5 years prior to founding Alternative Power Solutions of NY, LLC in early 2008. Owen is married with two small children and one on the way. He is Chairman of the Trustee Board for First Baptist Church in Baldwinsville, NY and has completed multiple courses pertaining to renewable energy from Solar PV, Geo-Thermal in Oklahoma with Climate Master and Wind design and installation training also in Oklahoma with Bergey.
In 2008 Owen completed his Solar PV design and install at ESF SUNY (environmental school of forestry). Owen is a NYSERDA eligible Solar PV installer # 4247, NYSERDA eligible Solar Thermal installer #07008 and a NYSERDA eligible Wind Turbine installer #3144.
MIKE RUDY
PROJECT MANAGER/SENIOR DESIGNER
Mike graduated from Mexico High School and studied Education at SUNY Plattsburgh and Business Admin at SUNY Oswego. Mike has worked with APS since 2010 and has worked almost every aspect of the company to date. He started as a wind installer in training/tower climber. From here Mike gained valuable field experience on the construction side of both wind and solar. In early 2012 Mike was promoted to an in-house position designing solar pv systems and wind turbines. Mike continued to excel and became one of the top solar sales consultants and quickly took the lead position of the internal design team.
MIKE JOHNSON
SOLAR SALES MANAGER/DESIGNER
Mike was born and raised in LaFayette, NY where he graduated from LaFayette High School and went on to earning a degree in Music Performance at SUNY OCC in 2009. In 2013 he started working with APS as a renewable energy consultant focusing mainly on solar pv. Since then Mike has grown into a management position and continuously maintains the number one spot on the solar sales chart. Mike is an experienced solar pv designer, geo-thermal designer, grant writer, and installer. Mike would prove a great asset to the team of marketing, designing and selling for the Solarize CNY campaign if given the opportunity.
DAVID FERGUSON
SOLAR CONSULTANT/CUSTOMER SERVICE
Dave resides in Brewerton, NY with his wife and two younger children. He is a central New York native and attended Cazenovia College. Dave owned and operated Champions Fitness Center in Cicero, NY for 23 years before transitioning into the home inspection industry in 2003. APS sold and installed Dave's 10kW solar pv system and 6 ton geo-thermal unit in 2012 at which point Dave was sold and joined our team. Dave brings years of valuable customer service, sales experience and technical knowledge to the team.
JUSTIN TRIEVEL
LEAD FOREMAN
NABCEP Certified Solar PV Installer
Justin obtained a bachelors degree in liberal arts at St. Johns College in Annapolis Maryland. He then went on to become a top sushi chef managing a restaurant for 7 years prior to getting into the solar business. Justin came to APS from Arizona with a wide variety of skills and accomplishments in the solar industry as well as a NABCEP certification. At APS Justin plays an important role in the day to day operations of the management team and install crew in the field. With almost 9 years experience in the Solar industry Justin is a key asset at APS.
JEREMY TROXELL
INSTALLER
NABCEP Certified Solar PV Installer
CONOR KAYS
INSTALLER/SOLAR DESIGNER
NABCEP Certified Solar PV Installer
NYSERDA eligible Solar PV Installer #4439
BRUCE KINGSLEY
SOLAR INSTALLER
1 year solar installer experience
PETER COATES
SOLAR INSTALLER 
7 years solar installer experience
Certified tower climber and rescue climber
Copyright © 2017. Alternative Power Solutions of New York, LLC.
6399 East Molloy rd, Suite C, E. Syracuse, NY 13057 - Phone: 315.314.6930 (ext. 203)